Are you dreaming of having just one hair mask that would finally take good care of your strands? Have you been trying out many cosmetics but there was none to give you satisfying results? It's time to change this! You're one step from the top-notch hair mask. Spare this article a moment to find out what is so exceptional about keratin-infused Nanoil hair mask. In three minutes you will understand why Nanoil Keratin Hair Mask is the highly-rated hair care product.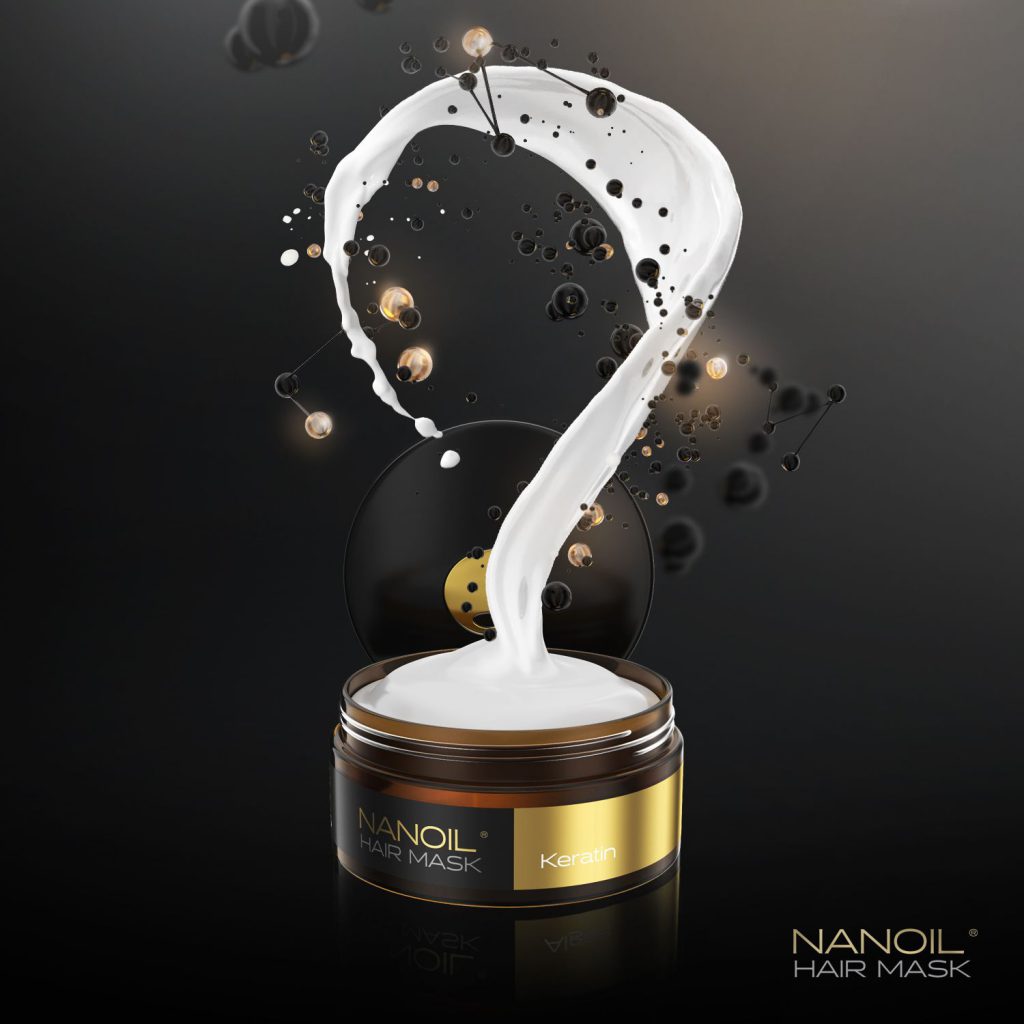 Nanoil keratin hair mask. Why is it better?
What Nanoil offers you is the highest quality, no doubts about it. Therefore in this mask you will find the top-flight keratin with hydrolyzed molecules, which regular keratin hair care products don't offer. Having lower molecular weight, keratin in Nanoil hair mask is definitely more potent in delivering you the desired effects. It easily penetrates all three layers of the hair shaft to reduce the damage caused by various aggressors.
Keratin is one of the most essential substances used to improve the strands. It's nothing more but a natural building block of hair. Inevitably, hair loses its tiny keratin bricks, hence the gaps and cracks on all hair layers. This in turn leads to uncontrolled hair damage. Luckily, we have keratin at our disposal to fill the gaps in the hair shaft. Put simply, keratin is the best hair repairing agent for your strands!
What can you win by choosing keratin hair mask by Nanoil?
Nanoil is more than just top-notch keratin capable of delivering you the looked-for effects. In this hair mask you can also find a huge portion of provitamin B5, also known as panthenol. Both of the ingredients are used in the most favorable concentrations and proportions so as to ensure the best results.
Keratin in hair care
Keratin is one of the essential proteins constituting human hair, nails and skin. As we age, the amounts of keratin are getting reduced, therefore in order to prevent the keratin shortages, we have to systematically deliver it to our bodies (in this particular case – to the hair). One of the finest solutions that can help you keep this protein levels high is a keratin-enriched hair mask. A short, 20-minute sessions done on a weekly basis should perfectly satisfy the hair's needs for keratin. Such keratin hair treatment ensures strong, healthy and beautiful tresses.
Panthenol in hair care
Do you know that provitamin B5 makes the perfect match for keratin? Alike the natural building block of our hair, panthenol is able to repair hair's texture in order to leave it stronger and lock the moisture in. It's also good at binding water molecules and protecting the hair against losing the very moisture. Apart from that, provitamin B5 brings luster to the strands and makes them bouncy. This makes it one of the finest ingredients added to hair care products. The good news is that there is plenty of panthenol pumped into Nanoil Keratin Hair Mask. The keratin & panthenol duo makes the Nanoil hair mask one of the top-rated hair care products used for home treatments.
Did you know…

… that Nanoil is regarded as a professional hair mask destined for home use? It's like that because it allows you to achieve the in-salon effects at home, provided that you have spare 20 minutes a week that you can spend on conditioning your strands. Surely, this isn't much especially that you can win gorgeous, strong and super healthy hair.
Keratin hair mask by Nanoil. The effects
There are plenty of benefits of using Nanoil hair mask formulated with hydrolyzed keratin and panthenol. The most obvious effects include
Lustrous, bouncy and resilient hair.
Well-manageable hair.
Tamed hairdo that is affected neither by static nor frizz.
Improved moisture.
Protection against damage.
Perfectly healthy hair from the roots to the ends.
Voluminous and thick hair.
Keratin hair mask by Nanoil. The reviews
Favorable reviews are like compliments. And this is exactly what the users give to Nanoil Keratin Hair Mask. Reportedly, this hair mask with keratin is appreciated by the users mainly because of the remarkable effects, high quality and even pleasant aroma that stays on hair for long.
Find out more and buy cheaply!
Visit nanoil.co.uk