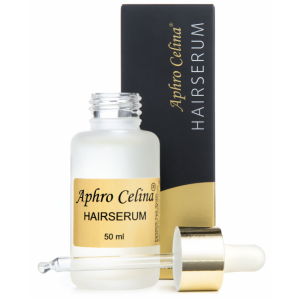 For noticeably thicker and stronger hair
50 ml
The serum is composed of (in order):
aqua,
glycerine,
preservatives,
Panthenol (B5 pro-vitamin),
Isopropyl Cloprostenate (active substance).
Aphro Celinahair serum is a German cosmetic, the formula of which was designed very studiously. The product is a natural and safe alternative to widely spread preparations for hair growth (in most cases, they are made from harmful substances). What is more, active substances of Aphro Celinahair were tested dermatologically. What is also worth pointing out, Aphro Celina works only on hair bulbs to stimulate them and make strong. The cosmetic makes the hair growth phase longer and slows down hair loss.
Apparently, hair density becomes noticeably improved and the strands themselves more elastic and markedly longer.
This German hair serum is characterized by thought through formula that is free from alcohol, parabens, and artificial colourants. What is more, the consistency of the product is neither too gooey nor oily, therefore it does not linger on hair nor scalp. Removing the oil does not cause problems. The serum features pipette, which makes the process of application easier as it enhances the efficiency. A half-full pipette is enough if one wants to give a scalp massage. The effects of hair growth and its strengthening are noticeable after two months. The treatment itself lasts four months (when the product is applied regularly every day). In fact, this is not a satisfying result when noticed that the bottle has only 50 ml capacity.
What encourages you to buy the product?
safe ingredients of natural origins, no risk of side effects, easy-to-use pipette, can be applied to hair exposed to chemical treatments, consistency facilitating application
What discourages you from buying the product?
high price, small capacity, poor efficiency