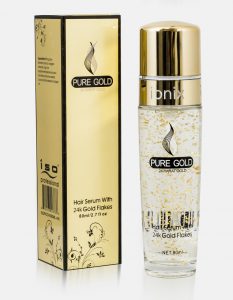 Hair Serum With 24k Gold Flakes
80 ml
The serum is composed of (in order):
silicones (including PDMS),
24k gold flakes,
cacao butter,
argan oil.
Pure Gold by ISO Professional is a complex cosmetic series of hair and scalp rejuvenating action. This ISO Professional Hair Serum is an argan oil-based hair serum, which was enriched with flakes of 24 karate gold. These flakes are responsible for restoring elasticity to hair, slowing down process of collagen loss and counteracting signs of hair ageing (i.e. greyness, baldness, and roughness of hair). Serum Pure Gold delivers softness and shine to strands.
Thanks to argan oil content, the product provides moistening whereas additional ingredients are responsible for other medical and care features, such as preventing hair loss or damages.
ISO Professional, Pure Gold, Gold Flakes Hair Serum does not contain any comedogenic ingredients (in other words, it does not block scalp pores). The formula was not only developed with focusing mainly on composition, but also to maximise its action and ease application. Best, if put on wet hair, however this manner of application is not obligatory. It is suffice to use just a small amount of the product in order to coat total length of hair, to add shine to the strands and regenerate them at the same time. When it comes to the efficiency of Gold Flakes Hair Serum, it is reported to be highly satisfactory. Unfortunately, the price per bottle is definitely too high.
What encourages you to buy the product?
effectiveness, luxurious formula, pure gold as an ingredient, cacao butter and argan oil, pleasant consistency, functional and elegant package, non-comedogenic
What discourages you from buying the product?
exorbitant price, silicones as the first on the ingredient list