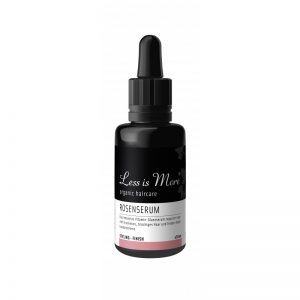 For dry, thick and damaged hair; irritated scalp (e.g. itching, flaking etc.)
30 ml
The serum is composed of (in order):
apricot seed oil,
jojoba oil,
coconut oil,
rose seed extract,
E vitamin,
wild rose oil.
Less Is More hair serum bases its action on only natural and organic ingredients that come from eco-friendly farms. Cosmetics of the brand are perfect for vegans because they are not tested on animals. Nourishing Rose Serum for hair regenerates strands well. This is a life-saving recipe for split ends, irritated scalp, and frizzy hair. This rose formula restores scalp balance and delivers relief. There is yet another positive feature the serum has; namely, due to jojoba oil, moisture level of strands is maintained at the appropriate level.
Rose hair serum by Less Is More has to be applied to damp hair and scalp
. Its consistency was developed in such a way that the product does not require to be rinsed off. Although the serum resembles a light oil, it does not make hair flat, does not clump strands together, and does not make hair greasy. Unfortunately, Rose Serum by Less Is More should not be applied to dry hair. The efficiency of the product is high thanks to the precise applicator (pipette). Despite being effective, the quantity of the cosmetic is small when compared to the price.
What encourages you to buy the product?
organic and plain composition, rose recipe, good features, light formula, does not make hair flat, convenient package, pipette
What discourages you from buying the product?
small capacity, high price, should not be applied to dry hair