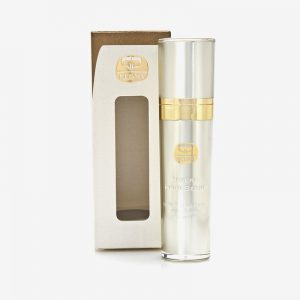 Hair Serum And Treatment
50 ml
The serum is composed of (in order):
demineralised water,
three silicones,
argan oil,
Panthenol (B5 pro-vitamin),
Dead Sea minerals.
Kedma offers hair serum with argan oil as its main ingredient. It is recommended to regenerate and strengthen dehydrated and damaged hair. Despite argan oil (base of the product) and nourishing B5 pro-vitamin, Mineral Hair Serum includes additional active substances and Dead Sea minerals that penetrate deep into fibres. Furthermore, Kedma hair oil shields hair against dehydration, urban pollution, high temperature, and chemical treatments. What is more, the cosmetic counteracts static and frizz, as well as makes combing and hair styling easier.
It gifts hair with softness and healthy shine.
Mineral hair serum by Kedma should be applied the same way as any regular hair oil. A few drops of the preparation have to be rubbed into damp and shampooed hair, with having even distribution in mind (from the middle-length to the ends). Despite its effectiveness and light formula, the product should not be applied to dry hair. Unfortunately, the serum makes hair flat if applied to scalp and roots. However, the greatest advantage of the serum is its fragrance. Last but not least, Kedma Mineral Hair Serum can be used up to 12 months since open.
What encourages you to buy the product?
natural composition with argan oil as the main ingredient, efficiency, very high effectiveness, nice formula, long-lasting and pleasant flavour, can be used for a year since open
What discourages you from buying the product?
very high price, can be applied only to damp hair, may make hair flat, contains silicones