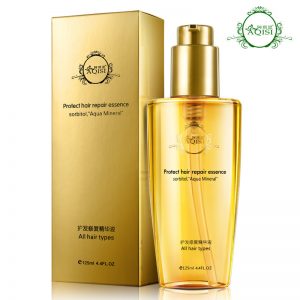 Hair Repair Essential Oils
125 ml
The serum is composed of (in order):
silicone,
maize germ oil,
argan oil,
camellias seed oil,
sorbitol (moistening agent),
sea minerals.
AQISI is an Asian cosmetic brand focusing on hair care. The product has become well recognized recently by many beauty lovers. Although the hair serum is designed for nourishment and regeneration of damaged hair, it can be also applied to all types of strands. Hundreds of consumers, whose opinions can be found on the Internet, prove the product's action. The cosmetic is designed to repair and protect hair. Concentrated formula of vegetable oils and sea minerals provides moisturization, strengthening, smoothing, flexibility, and thickening of hair.
Moreover, the product is able to eliminate problem of dandruff, baldness, and brittleness.
This hair serum by AQISI is a hair nourishing essence of gold colour. The product is runny and works well on hair. It does not leave greasy layer nor makes hair flat. Instead, it gets absorbed fast. The more damaged hair is, the greater amount of the cosmetic penetrates deep into hair structure. Pump dispenser increases efficiency of the product and prevents uncontrolled spilling of the cosmetic. Moroccan Hair Oil Conditioner Repair Essence has to be applied to the length of hair and to almost completely dry hair, which is time-consuming. On the other hand, the cosmetic does not have to be rinsed, which is a plus.
What encourages you to buy the product?
confirmed efficiency, multitask, flowery fragrance, easy application, natural oils in the composition, ergonomic dispenser, no need to rinse the product off, for all hair types
What discourages you from buying the product?
silicone at the beginning of the ingredient list, scarce amounts of sea minerals, can be applied only on shampooed and dry hair